The Best Lover – I love myself, here, now, ad infinitum!
Original title: The Best Lover
Genre: Artist Film / Fiction
Duration: 13' 37″
Script: Ninni Korkalo
Director: Ninni Korkalo
Camera: Sami Sänpäkkilä, Ninni Korkalo
Set Design: Anna Elo
Sound Design: Jyri Pirinen
Colour Grading:
Emmi Holopainen / Toast Post Production
DCP Mastering: Teijo Pellinen / Kinokki
Graphic Graphic Design: Anne Virta
Cast:
Sari Lilliestierna as Barbarella
Ondi Madete as Therapist (V.O.)
Aarne Shhadeh as Collective Mind (V.O.)
Finance:
Script: AVEK / Milla Moilanen
Production: AVEK / Milla Moilanen
Artist Grants: AVEK, Alfred Kordelin Foundation & Arts Promotion Centre
Gallery premiere:
Forum Box / Media Box, Helsinki 10.3.2023
Festival premiere: Spring Break festival, Helsinki 16.4.2023
Distributor: AV-arkki
Producer:
Tuuli Penttinen-Lampisuo /
Poike Productio
The Best Lover is an artist film about Love, which is to be taken as a serious action towards new humanity. Self-love (falsely mixed up with narcissism) nourishes and cherishes one's mental growth.
Barbarella is eager to give a lesson about love to humankind. Collective Mind tries to define love by mining data. They, like everyone, struggle with communicating their loving practices. A change starts with a name and confession: I love myself, here, now, ad infinitum!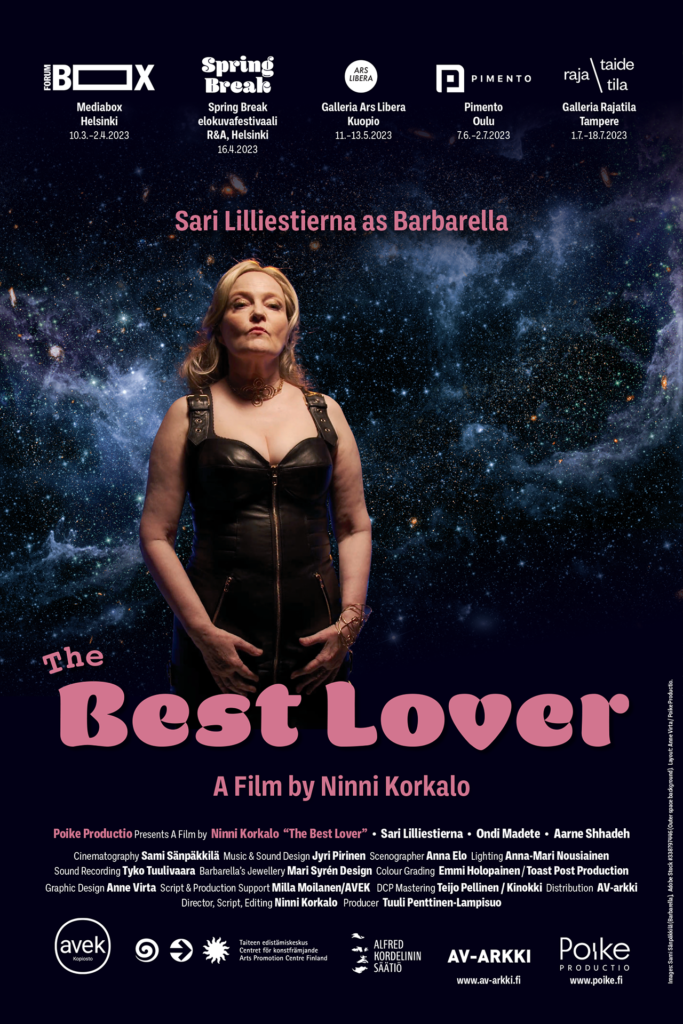 Download the Best Lover Poster (10,9 Mb)
The Best Lover Instagram (1080×1080 px)